MICHAEL CUMMINGS
(b. 1945, Los Angeles; living and working in Harlem)
Textile artist Michael Cummings distinguishes himself as a male practitioner within the African American quilting tradition traditionally practiced by women. His vibrant narrative quilts explore inter-diasporic connections facilitated by shared visual, performing, and literary arts, often incorporating spiritual symbolism and African American historical figures.
Cummings earned a BA in Art History (1979) from SUNY Empire State College. Cummings has served as an arts administrator with the New York State Council on the Arts, a founding member of the Women of Color Quilters Network, and as an art instructor for the Children's Art Carnival under the direction of artist Betty Blayton-Taylor. His recent solo exhibitions include Carracci Art (New York, 2022), The Festival of Quilts (Birmingham, England, 2022), Gallery 72 (Atlanta, 2019), City Quilters (New York, 2014), and the International Quilt Week Yokohama (Japan, 2014). He utilized fabric art to illustrate Alice McGill's children's compilation of slave lullabies, In the Hollow of Your Hand (1999). He has completed commissions for the Clinton Presidential Library (2020), the National Underground Railroad Freedom Center (2003), and HBO (1997). Cummings is a 2023 NEA National Heritage Fellow, and a 2016 National Research and Educational Institution History Makers Member. He has received awards including the Louis Comfort Tiffany Biennial Award (2001), the City of New York Art Commission (2001), and the Riverbank Review Children's Book of Distinction (2001).

Image Carousel with 3 slides
A carousel is a rotating set of images. Use the previous and next buttons to change the displayed slide
Slide 1: "Henri Matisse in Harlem's Cotton Club," 2018

Slide 2: "African Jazz #10," 1990

Slide 3: "African Jazz #11," 1990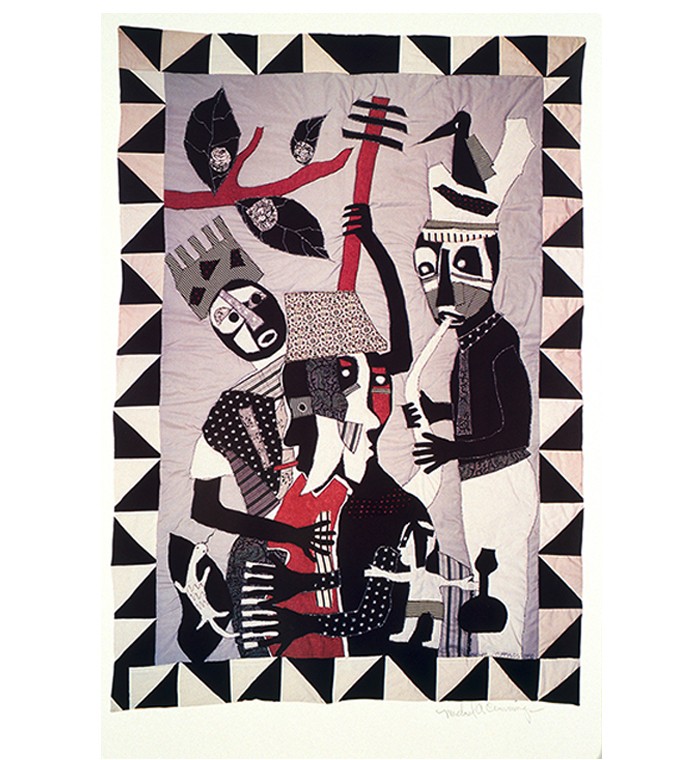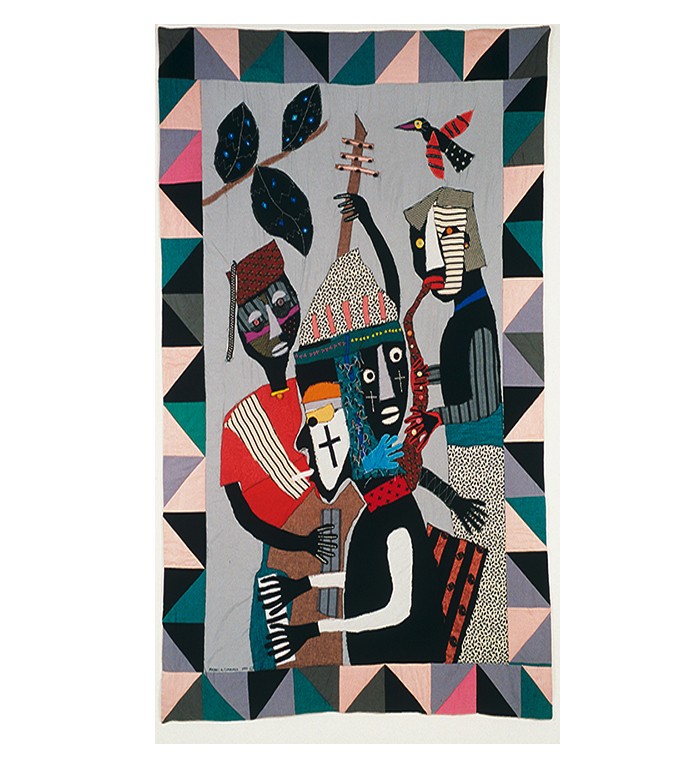 Previous
Next
Henri Matisse in Harlem's Cotton Club, 2018
Textile/appliqué quilt construction
78 x 64 in.
African Jazz #10, 1990
Textile/appliqué quilt construction
108 x 72 in.
African Jazz #11, 1990
Textile/appliqué quilt construction
108 x 72 in.
Michael Cummings's narrative quilts commemorate African American history with spontaneously-chosen colors and geometric shaping that reflect the influence of jazz and the performing arts. In Henri Matisse in Harlem's Cotton Club, Cummings imagines this historic interaction, depicting the French artist watching a central dancer and jazz musicians perform on stage at the legendary club, evoking iconic Harlem Renaissance performers like Duke Ellington and Lena Horne. While creating this quilt, Cummings listened to jazz, altering his design patterns and depictions of movement in reaction to the music.
An interplay between the auditory and the visual also resonates in Cummings's African Jazz series, inspired by The Jazzmolos, a photograph of African jazz performers taken by South African photojournalist Jurgen Schadeberg. Each variation of this twelve-part series examines different permutations of African and American clothing and spiritual symbols. African Jazz #10's muted color palette encourages the viewer to concentrate on the forms of the central figures. The pianist's second "Janus-like" face, and the bird positioned on the saxophonist's hat, find their origin in Cummings's interests in African masks, Cubist art, and Yoruba traditions. African Jazz #11 improvises on #10's spiritual theme. Cummings incorporates vibrant colors, changes the shape and angling of the "Janus" face, and combines Yoruba, Christian, and Muslim spiritual signifiers—a bird, a cross, and a fez hat—to reflect Africa's diverse spiritual landscape.
OTHER ARTISTS IN THE EXHIBITION