CARL HANCOCK RUX / DIANNE SMITH
Rux:    (b. 1975, Harlem; living in Brooklyn and working in Harlem)
Smith: (b. 1965, the Bronx; living and working in Harlem)
Through his writing and performance, Carl Hancock Rux experiments with combining poetry, theater, music, film, and prose. His intersectional genre play extends from his post-apocalyptic novel Asphalt to his poetic memoir Pagan Operetta to his symposium-style play Talk to contemporary opera Blackamoor Angel. He employs familiar framing devices as a basis upon which he builds layered, incisive examinations of the historical and contemporary Black experience. His experimentation with genre has continued through the pandemic, displayed through virtual theater experiences including Vs., which places audiences into the position of interrogator in a Kafkaesque Zoom trial. Recent events featuring Rux's work include Black Arts Movement: Examined (Harlem Stage, New York City, 2023),  Rux currently works as a co-artistic director of Mabou Mines and the associate artistic director and curator in residence at the Harlem Stage. Rux has received several accolades for his works, including the New York Foundation for the Arts Prize (2016), the Doris Duke Charitable Fund (2014), the Alpert Award in the Arts (2003), and the Bessie Schomburg Award for Performance (1996).
Dianne Smith's career as a multidisciplinary artist spans over twenty years. Her group and solo site-specific events and exhibitions include Archer Aymes Retrospective: A Juneteenth Exhibition (Park Avenue Armory, New York, 2022), I Dream a Dream that Dreams Back at Me (Lincoln Center, New York, 2021 and 2022); Uptown Triennial 2020 and The Way We Remember  (Wallach Art Gallery, Columbia University, New York, 2020 and 2021); Unbought & Unbossed: Reclaiming Our Vote, Go Tell It on The Mountain, (National Black Theatre, New York, 2020); Styling: Black Expression, Rebellion, and Joy Through Fashion, (Nordstrom, New York, 2020); STUFF, (Barnard College Library, 2020); and Dianne Smith Re: Harlem, Schomburg Center for Research in Black Culture as part of the Wallach Art Gallery's Columbia University inaugural Uptown Triennial (2017). She is also a Fulbright recipient from The United States Consulate General in Guayaquil, Ecuador. Smith's work can be found in The National Museum of Women in the Arts, The Brodsky Organization, and the Petrucci Family Foundation Collection of African-American Art. In addition, Smith's papers are in the Barnard College Archives and Special Collections. She is a 2021 Nancy Graves Foundation Awards Grant Recipient and Senior Artistic Associate with the theater company Mabou Mines. Smith received her MFA from Transart Institute in Berlin, Germany, via the University of Plymouth, in the U.K. Smith is a Bronx native of Belizean descent.
Image Carousel with 2 slides
A carousel is a rotating set of images. Use the previous and next buttons to change the displayed slide
Slide 1: Installation view of "Amin Shelah" as part of "Uptown Triennial 2023," on view at the Wallach Art Gallery from June 22 - September 17, 2023. Photograph by Olympia Shannon.

Slide 2: Installation view of "Amin Shelah" as part of "Uptown Triennial 2023," on view at the Wallach Art Gallery from June 22 - September 17, 2023. Photograph by Olympia Shannon.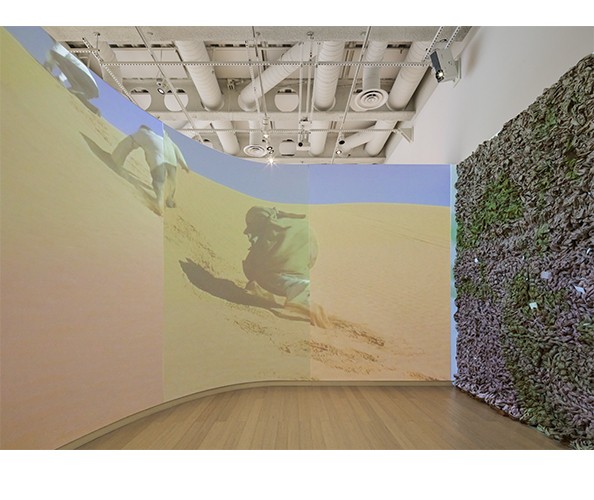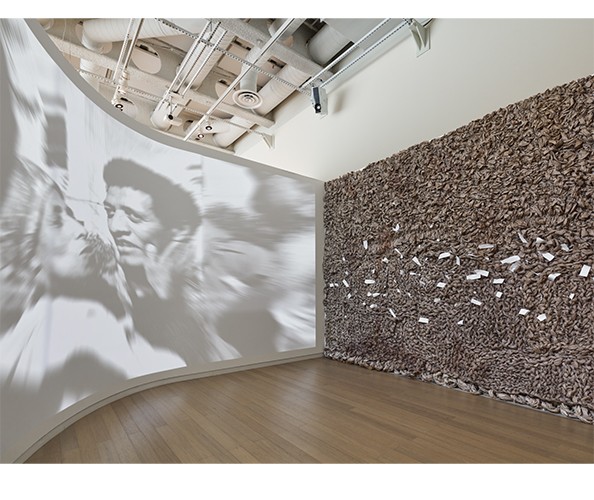 Previous
Next
Carl Hancock Rux's multimedia installation Amin Shelah, designed in collaboration with Dianne Smith, speaks to their underlying interest in conveying the history and depth of marginalized groups through many forms of narrative. From his opera Blackamoor Angel to his play Talk, Rux employs familiar framing devices and genres, from the epic poem to the Greek symposium, as a basis upon which he incisively examines the African diasporic experience. Working with multidisciplinary artist Dianne Smith on this project, he integrates archival images and videos discussing and depicting the Jewish diaspora, expanding this narrative to consider the nuanced experiences of Jewish people of African descent. Rux and Smith integrate these visuals into an immersive video wall, featuring songs and prayers paying homage to the historical and contemporary Afro-Jewish experience. By including Jewish songs performed by Harlem Renaissance-era artists such as Billie Holiday and Paul Robeson, Rux and Smith illuminate the storied history of the Black Jewish population of East and Central Harlem, pushing audiences to expand their understanding of Jewish history in the area. Using music as an access point to explore personal identity, the artists invite audiences to connect more deeply with these important historical narratives.
OTHER ARTISTS IN THE EXHIBITION