IVAN FORDE
(b. 1990, Georgetown, Guyana; living in Harlem and working in the South Bronx)
Drawing on his interest in classical literature, multimedia artist Ivan Forde combines photography, printmaking, collage, sound performance, and installation to create non-linear interpretations of epic poetry, often using cyanotype. Through researching oral history and multiculturalism within the African diaspora, Forde incorporates erased traditions into familiar structures to explore their emotional depths. Above all, he seeks to "remix history and epic poetry with [his] own experiences, fantasies, desires, and [his] family's history, memory, and migration experience." Whether using the Epic of Gilgamesh as an entry point to create a public mural discussing the ocean's future, or creating a print of a boat evoking Sun-Ra, Helios, and P-Funk's Mothership, Forde's work sets ancient history, the presence of nature, and diasporic cultural innovations into conversation with one another.
Forde received a BA in Literature from SUNY Purchase College (2012), an MFA from Columbia University (2018), and participated in the Independent Study Program at the Whitney Museum of American Art (2021-22). Recent exhibitions featuring Forde's work include Afrofuturism: A History of Black Futures (Smithsonian National Museum of African American History and Culture, 2023), Everything Is Common (Artists Space, New York, 2022), Blues (Ingrid Deuss Gallery, Antwerp, 2021), and The Radical Collage: Afrosurrealism and the Repurposed Fabrication of Black Bodies (Syracuse University Palitz Gallery, New York, 2020). Forde has completed commissions for the Baxter Street Camera Club of New York (2021), Syracuse University Art Museum (2021), the Public Art Fund (2020), and the Columbia University Zuckerman Neuroscience Institute Education Laboratory (2019).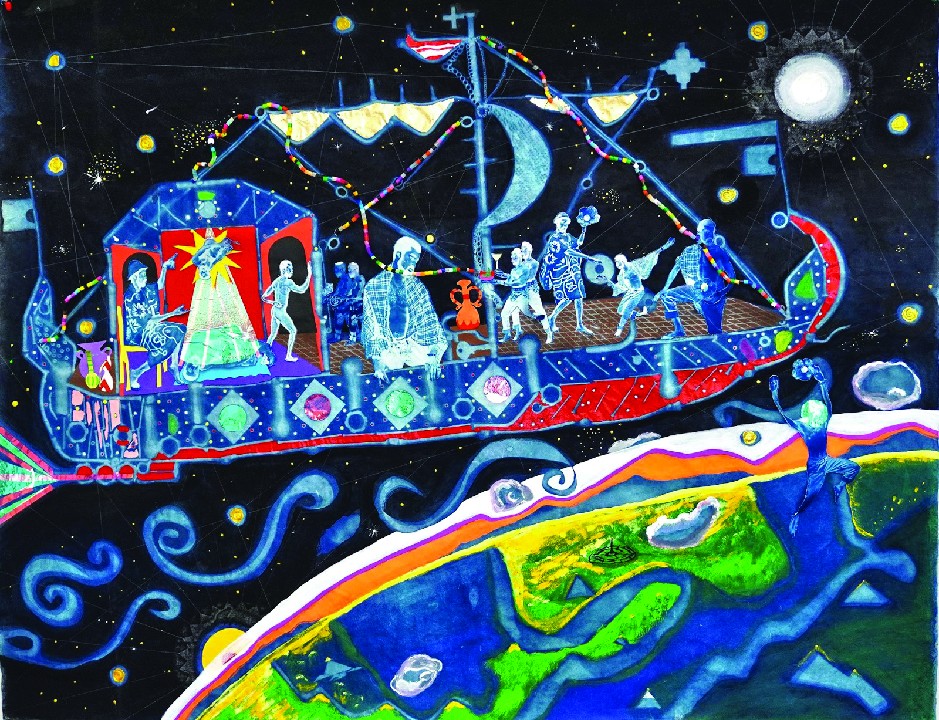 Moonlight's Decent, 2023
Blueprint painting on kozo paper, 24k gold leaf, acrylic beads, graphite, holographic vinyl
42 x 47 in
ALSO IN THE EXHIBITION
Nightingale (midnight sun), 2023
Mixed-media blueprint tapestry on Kozo paper, silk, wood
Left panel: 105 x 48 in.; right panel: 105 x 38 in.
Comfa Gold, 2023
Gilded fiber drum, speakers
44 x 24 in.
Get Lite, 2023
Fiber drum, synthetic polymer, black-eyed peas, graphite, speakers
Scratching Water, 2023
Stereo soundscape with organ, synthesizer, and vocals
84 min.
Ivan Forde's work incorporates elements of ancient epic poetry, Guyanese political history, and visions within contemporary art and culture across the African diaspora. In a series of cyanotype self-portraits clothed and posed like classical heroes and chimerical beings, Forde considers how his identity and interests factor into this intercultural matrix. His "blueprint paintings" and sound sculptures envision how these traditions consider and represent migration. Forde presents oral histories provided by his great-aunt, accompanied by bird songs and music, that speak to displacement and community formation in nineteenth-century Guyana and twenty-first-century Harlem alike. The shipping barrels transformed by the artist into resonators emitting sound and light reconsider the significance of the drum to Black identity, music, and free expression, as well as political histories of resistance toward freedom. The gilded drums include a carved portrait of singer June Tyson, a Harlemite and significant member of prominent Afrofuturist Sun Ra's Arkestra, as well as black-eyed peas, a major emblem of diasporic foodways. In a blueprint painting titled Moonlight's Decent, he features a boat populated by cyanotype self-portraits embodying light. This representation both references the ancient Egyptian idea of the boat as a means of spreading celestial light to Earth and speaks to Afrofuturist visions of space exploration as a means to access freedom, as explored by artists like Sun-Ra. His Nightingale (midnight sun), further reflects the layers of Forde's artistic identity, with a rendition of a songbird that both honors the bardic tradition of performing epic poetry and alludes to patterns of Black migration during the nineteenth and early twentieth centuries. 
OTHER ARTISTS IN THE EXHIBITION