MARIA CHAVEZ / JORDI WHEELER
Chavez:  (b. 1980, Lima; living and working in Brooklyn, Madrid, and Tuscany)
Wheeler: (b. 1978, New York City; living and working in Valencia, Spain)
Sound artist and DJ Maria Chavez's abstract turntablism work repurposes the detritus of vinyl into sonic sculptures, comparable to improvised musique concrete pieces. Coincidence, chance, and failure are themes that unite her sound sculptures, book objects, installations, and other works with her improvised solo turntable performance practice. Chavez is the only turntablist in the world to perform with the RAKE double needle, which reads two parts of a record simultaneously. Recent exhibitions of Chavez's work include Absorption Sculpture: The Orange Show (Orange Show Center for Visionary Art, Houston, TX, 2023), Paperworks, 2008–2022 (paper, sound, motion) (Sheehan Gallery, Walla Walla, WA, 2022), and In Focus: Sound (J. Paul Getty Museum, 2022), Marfa Myths (Judd Foundation, Marfa, TX, 2016). Chavez is part of the group exhibition Don't Blame it on ZEN: The Way of John Cage and Friends (MOCA Jacksonville, 2022–23). Her latest recordings include The Kitchen Sessions: 1–5 (in collaboration with Jordi Wheeler, 2021) and Live at Jewel's Catch One (in collaboration with Lucas Gorham, 2020). Chavez's writings include the essay "Too Much Reality," on E-flux's website and the book Of Technique: Chance Procedures on Turntable (2012). She was a David Tudor and Robert Rauschenberg Arts Fellow and a Research Fellow for Goldsmith's Sound Practice Research Department (2015–17).
Jordi Wheeler is a multi-instrumentalist working in the periphery of New York City and currently residing in Valencia, Spain. His work engages with the idiosyncratic languages of individual instruments by focusing on active listening, breadth of dynamic range, and timbral flexibility during his performances. His solo work serves as long-form meditation, where he "becomes his ears." Wheeler performed a solo concert as part of Circuito Bucles (Centre de Carmen Museum, Valencia, Spain, 2022) and has performed in the ongoing "Dialeg Obert" series (Centre de Carmen Museum, Valencia and El Teatre Musical, Valencia.) He has also contributed music to the artist Cate Giordano's film REX.  In group contexts, he has recorded and performed with Amen Dunes on the records Freedom (Sacred Bones, 2018) and Love (Sacred Bones, 2014), Mike Wexler on the records Syntropy (three:four, 2016) and Dispossession (Mexican Summer, 2012), and Psychic Ills (2013). Wheeler received a BA in English literature at New York University (2000).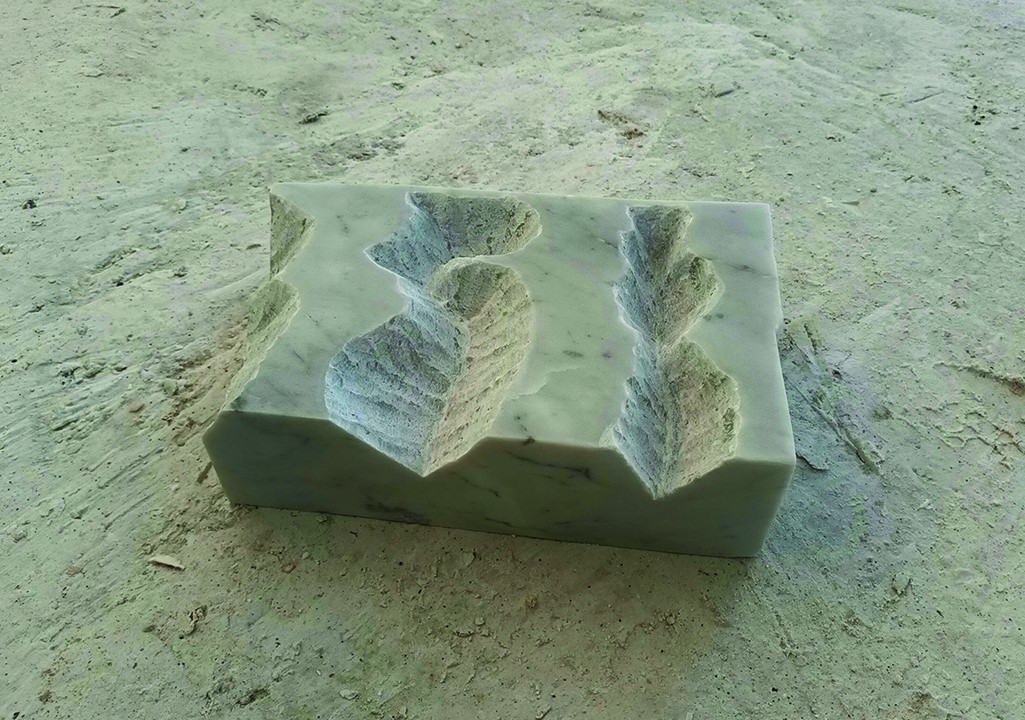 Maria Chavez
Topography of Sound: Vinyl Goove #1, 2022
Carrara marble
7 5/8 x 11 7/8 x 3 7/8 in. 
ALSO IN THE EXHIBITION
Maria Chavez and Jordi Weeler
"Is Made Easy," 2017
Audio recording; 8 min.
Maria Chavez and Jordi Weeler
The Kitchen Sessions: 1-5, 2020
Full album recording, video collage; 30 min.
LIVE PERFORMANCE: June 22, 2023
Opening reception of Uptown Triennial 2023
Maria Chavez and Jordi Weeler
Two turntables, one DJ mixer, electric guitar, implements
Sound artist Maria Chavez eschews creating traditional "musical" works in favor of exploring the history, properties, and physicality of sound storage and production. In her abstract turntabling practice, Chavez repurposes the detritus of old vinyls into performable sonic sculptures, listening both for the "intended" sound encoded in records and the sounds the physical records and needles produce. During her performance process, Chavez explores her fascination with the physicality of analog sound storage. In her marble sculpture, she greatly expands the surface of a vinyl record fragment to a macro scale, highlighting the fascinating flaws and grooves hidden within the record. Through this act of enlarging the shard, she helps audiences to see, touch, and find fascination with the essential components of her performance praxis.
A listening station in the exhibition presents Chavez and multi-instrumentalist Jordi Wheeler's collaborative sound projects in chronological order. Wheeler and Chavez have performed as a duo since 2015. Their collaborative work has been presented by Cruces Espacio de Arte (Madrid, Spain, 2018) and as part of the Abasement Series (Max Fish, New York, 2016). Their pieces have also aired for Documenta 14 as part of Every Time A Ear di Soun series (KunstRadio, Vienna, Austria, 2017), and 3cR (Melbourne, Australia, 2018).
Chavez and Wheeler's sound piece "Is Made Easy" formed the introduction to Chavez's 2017 long-form piece Between a Gunshot and a Whisper, as part of the Every Time an Ear di Soun series. This work explores the "auditory space between a gunshot and a whisper" by using fragments of global sound effects records, intended for radio playback in the 1960s, in combination with Wheeler's improvisations on a Rhodes keyboard and other instruments. 

Their next collaboration, The Kitchen Sessions: 1-5, was recorded at The Kitchen, a performance and exhibition space in New York City, during its pandemic-era closure. Chavez made use of four Numark TTX turntables, four RAKE double needles, and two Xone DJ mixers, while Wheeler used a prepared piano, bass guitar, and electronics. The abstract work they generated resulted from active listening and improvisation with a new configuration of instruments inside the theater space. In combination, Chavez and Wheeler's recordings speak to their history as a performance duo, the material conditions under which their recordings were produced, and the history and physicality of sound storage and production.
OTHER ARTISTS IN THE EXHIBITION